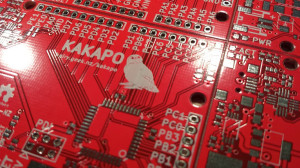 The Kakapo production boards have arrived! These are a 2x2 panel (so a total of 4 boards within each panel) and the new silk has turned out fantastically well. Hackvana has supplied these boards and they have delivered very high quality PCBs again.
The new Kakapo logo was redone for this run, mostly to make it look better in white rather than the black I had originally planned. The drawing was redone in Inkscape, with cut-out lines for adding detail to the solid area. I think it's turned out great, the picture doesn't do justice to how fine the detail lines actually are.
I expect to start production on these at the weekend, starting with shipping the final configuration to Nicegear for feedback and then ramping up making the first run.
It's also about time I worked out the pricing, I'm aiming for around the same as an Arduino Uno, at least as close as I can make it. It will depend on how much small runs (as it currently is being made) adds to the costs.