Well, I've finally shipped off the first beta test unit of the Kakapo dev board to nicegear. This is mostly to shake out what I haven't resolved yet, get valuable feedback on the design and packaging, and a bit of time to prepare some tutorials and documentation.
Over the next few weeks, I hope to fill out that last part a lot more. My intention was always to make this a stepping stone away from the Arduino by focussing on boilerplate drivers and a heavy emphasis on the way the datasheets and avr-libc are written.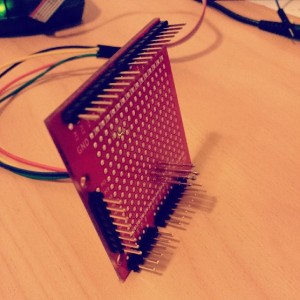 It's also been a chance to develop some new ideas on production processes. The example to the left is a pogo-pins programming header that uses normal fixed pin headers to keep it in place. Frees up the hands, and allows me to program a board easily. But it's also used to align the headers when soldering them down, and it's a protoshield for end users!